Language of Fertility wins top media relations award at Communiqué Awards 2022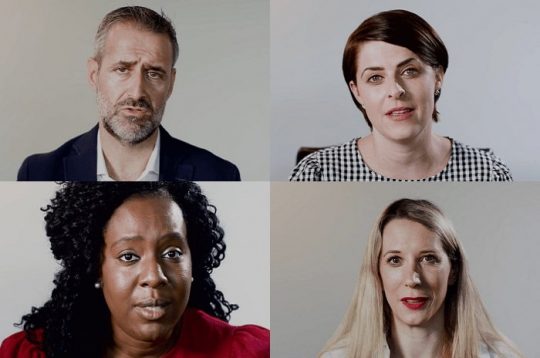 The Language of Fertility, an initiative launched by IVI London and Mearns & Pike, has been awarded top prize in healthcare communications
The initiative was developed to tackle stigmatising language that can imply blame and shame on those struggling to have children
IVI London and Mearns & Pike were announced winners of the Excellence in Media Relations category at this year's Communiqué Awards, an annual programme recognising excellence in healthcare communications. The gala, held at Grosvenor House in London on Thursday 8th July, was attended by hundreds of healthcare PR and communications professionals.
The Excellence in Media Relations category is among one of the most competitive at the Communiqué Awards, attracting entries from across all healthcare industry sectors. This year, Estée Lauder and AstraZeneca were among the nominees competing for the accolade. The title was awarded to IVI and Mearns & Pike for the Language of Fertility project launched last year.
"This entry […] showed the increase of a shared, collective voice, with clever language and tone that really struck a chord with the judges, elevating the submission above others in the category," commented the judging panel.
The Language of Fertility: A Manifesto for Change was created with an aim to redress the common terms and phrases that add stigma to infertility. Although 1 in 7 couples in the UK struggle to conceive, the subject of fertility remains taboo in society. From a degrading tabloid headline through to the terminology used by a healthcare professional in a medical setting, many people struggling to have children are made to feel to blame for the issues they're facing simply through the language that we use.
"As medical professionals, we have a duty of care to our patients. This means that we must take a holistic approach, caring for our patients physically and emotionally. The Language of Fertility was developed to address not only the lack of sensitivity around infertility, but how the words we use affect each individual on a personal level. Just because these words are used day-in, day-out, particularly in medical settings, doesn't make them any less damaging," explains Dr Cesar Diaz-Garcia MD PhD, Medical Director of IVI London.
From its conception, the Language of Fertility project was developed as a community-led movement. IVI London and Mearns & Pike invited five external collaborators from the UK online fertility community to be part of the project, bringing with them their own lived experience of infertility as well as the collective experience of their individual online communities.
Each woman put the call out on social media and invited their followers to share an experience in which, when discussing matters related to their fertility, it was the words that were used that had inflicted pain. Thousands of men and women stepped forward.
"One IVF doctor repeatedly told me I was a 'super fertile recurrent miscarrier'. The language, tone, empathy used has such an impact when you are feeling so vulnerable."
"The comment, made in the context of egg donation: 'If I wanted another person's baby, I'd go babysit'."
"During an internal scan, a doctor saying 'It looks like your ovaries have shrivelled up and died' as a way to talk about diminished ovarian reserve and the need for donor eggs."
"By having IVF, you're forcing your body to do something it wasn't meant to do. That was said by my midwife at my booking-in appointment."
"I'm a midwife and since trying to conceive I've become so much more aware of the language we use in the medical profession and the way women are treated. One consultant told me during a tea break that 'I should hurry up if I wanted a baby, as my eggs will be knackered at my age'."
These experiences were shared anonymously with IVI and Mearns & Pike who began building pledges to lead the Language of Fertility manifesto: one pledge for healthcare professionals, one pledge for media professionals and one pledge for family and friends of those struggling to conceive. Each pledge set out a series of actions to encourage honest and empowering conversations around fertility. The manifesto also illuminated less obvious expressions that indirectly imply blame or shame and offered practical alternatives.
"The Language of Fertility is something that we care deeply about. From experiences of the fertility journey from our own team, it was clear something needs to be done about the negative and often damaging language that people seeking help with conception are subjected to. We are delighted that IVI felt the same and together we have shaped a campaign that we believe will change the tone and be more supportive for people trying to conceive," added Kirsty Mearns, co-founder of Mearns & Pike.
Following an exclusive media launch event, the Language of Fertility manifesto was circulated on social media by its advocates and promoted on IVI's online and offline channels over a period of eight weeks. Among the media coverage was a feature by ELLE UK in an article that was viewed over 20,000 times in the first four weeks following its publication. The manifesto pledges have now reached thousands of members of the fertility community on social media and their message continues to grow.
The judges shared in their closing comment:
"[This entry] involved solid implementation and the judges acknowledged that it was creative of the team to make a story out of a topic which has not been widely reported on."
Learn more about the campaign here or download your copy of the Language of Manifesto.