IVI partners with Faramundi to aid Ukraine crisis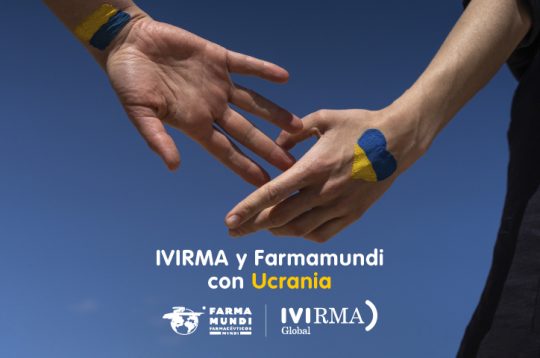 The new collaboration will provide emergency aid to the victims of the military conflict in Ukraine
Delivery will be divided into two phases and will help over 1,000 displaced people in the Poltava region
An Emergency Committee within IVI has been formed to manage the project and coordinate action
IVI has signed an agreement with Valencia-based NGO Farmacéuticos Mundi (Farmamundi) to provide humanitarian relief and meet the immediate needs of the most vulnerable displaced people in Ukraine.
The agreement was signed by Dr. Nicolás Garrido, Director of Innovation of the IVI Foundation, and the president of Farmamundi, Ricard Troiano. The humanitarian intervention will be based out of the Poltava region, which has become a place of refuge for many displaced Ukranians fleeing Sumy, Kharkiv, Kherson, Luganksh, Dontesk, Zaporizhia and Dnipropetrovs. Supported by IVI, the initiative will be delivered in two phases over eight months. In the first phase, nutritional packages and hygiene kits will be provided to vulnerable refugees, the majority of whom are women, children, the elderly and those with a disability. The second phase will focus on providing medicines and emergency supplies.
An Emergency Committee has been installed within IVI, formed of members of senior leadership from different areas of the organisation. The committee will be tasked with coordinating action with internal and external stakeholders. In support of these efforts, a donation platform has been setup for anyone who wishes to support Farmamundi's humanitarian action on the ground.
Following the signing of the agreement, the IVI Foundation team visited the Farmamundi headquarters in Valencia to gain an in-depth understanding of the vital work the NGO carries out in Ukraine. "The support of organisations such as IVI is essential and helps us continue with our work, where we're already providing aid to over 4,500 victims of this extremely difficult situation in Ukraine," explained Joan Peris, director of Farmamundi.
"Collaborating with an organisation like Farmamundi, which has so much experience improving health levels in developing countries, is in line with our Sustainability strategy: to build alliances that make a real positive impact on local populations. Our entire organisation has been involved from the start, giving all they can to this humanitarian emergency. This project embodies the commitment of each individual who makes up IVI", adds Dr. Garrido.
The initiative is one of many CSR actions that IVI has implemented since 2008, aligned with the commitment to the Sustainable Development Goal (SDG) 3 laid out by the United Nations to ensure health and well-being for all.